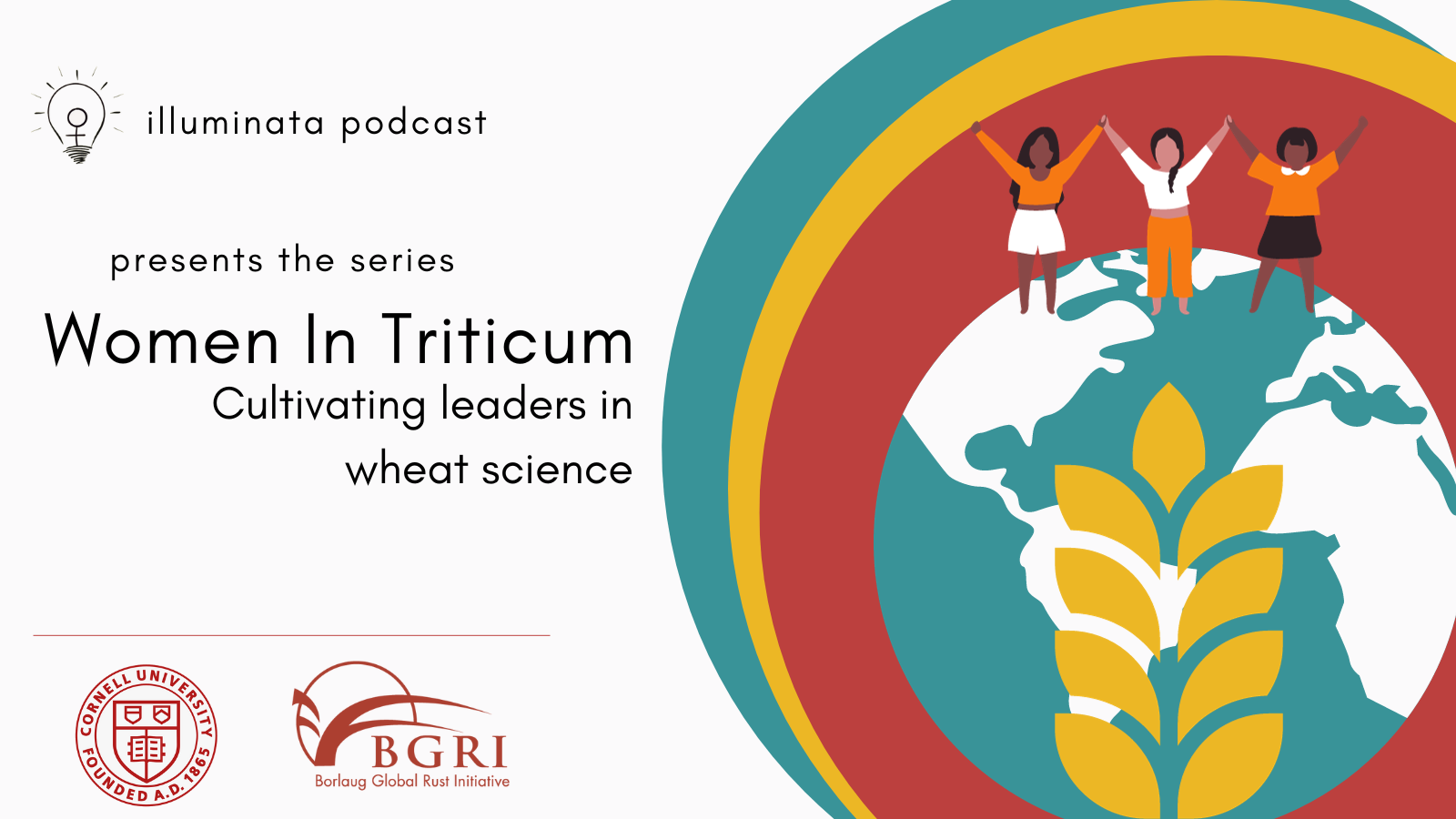 The future of agriculture is being shaped by women who are breaking barriers and pushing boundaries in science. Illuminata, a podcast series sharing inspiring stories of women in agriculture, is releasing a series of episodes featuring recipients of the Jeanie Borlaug Laube Women in Triticum (WIT) award program from the Borlaug Global Rust Initiative. The new episodes highlight the journeys and accomplishments of five WIT awardees in the world of wheat science.
Illuminata will feature in-depth interviews with select WIT awardees, including Samia Berraeies (2013 WIT awardee), Sandra Dunckel (2013 WIT awardee), Jessica Rutkoski (2010 WIT awardee), Paula Silva (2020 WIT awardee) and  Batiseba Tembo (2021 WIT awardee).
The Illuminata podcast series featuring WIT awardees is available on major podcast platforms, with the first episode featuring Berraeies released November 20. 
Illuminata, led by hosts Charlotte Rambla and Cristina Ocaña Gallegos, has been on a mission to showcase and celebrate the achievements of women in the agricultural industry. The podcast was conceived as a platform to share the personal stories, experiences, and advice of women working in STEM, with a special focus on agriculture. Since its inception in January 2021, Illuminata has released over 30 episodes featuring women from diverse backgrounds and cultures, each contributing their unique perspectives to the conversation.
The partnership with the Women in Triticum (WIT) award program is a natural extension of Illuminata's commitment to amplifying women's voices in agriculture. The WIT early-career awards, designed to foster professional development opportunities for wheat researchers in the early stages of their careers, is a driving force in empowering women to take on leadership roles in a historically male-dominated field. This podcast collaboration aims to accelerate the visibility and influence of women in the agricultural world.
Charlotte Rambla, one of the hosts of Illuminata and recipient of the 2022 Women in Triticum award, says that WIT awardees inspired her when she was a student in wheat science, and she is thrilled to be sharing those stories with the Illuminata audience.  
"The agricultural landscape is evolving, and I am so excited to share some of the stories of WIT awardees and showcase the outstanding contributions these women are making in wheat science," Rambla said. "Our podcast has always aimed to inspire the next generation, and through these new episodes, we hope to provide young women with role models and mentors they can look up to."
According to Rambla, the WIT awardees have not only excelled in their scientific endeavors but have also demonstrated strong leadership potential, contributing to the advancement of crop science. She said their stories will serve as beacons of inspiration for aspiring female agriculturalists and scientists worldwide.
"We believe that storytelling has the power to ignite change and inspire progress," said Cristina Ocaña Gallegos, co-host of Illuminata. "By sharing these journeys, challenges, and achievements, we hope to create a ripple effect that encourages more women to embrace careers in agriculture and ultimately reshape the future of science."
For more information and updates, visit the official Illuminata podcast website at https://illuminatastem.wixsite.com/illuminata.
About Illuminata: The Illuminata podcast showcases women who are driving innovation and progress in the agricultural sector. Hosted by Charlotte Rambla and Cristina Ocaña Gallegos, the podcast features interviews with accomplished women from various backgrounds within STEM, inspiring the next generation of female leaders.